2020 has arrived, and with it comes change.
After 33 years in business, Katrina is retiring. Though a bittersweet decision, it's time to step back and slow down. She has closed her Oakland store, effective December 31st, and her Alamo location will close on January 31, 2020.
Katrina, and her husband, Ken, are deeply grateful for all of the community support that has made Katrina Rozelle Pastries and Desserts a destination for discriminating dessert lovers for over 3 decades. They are also immensely thankful to the loyal and hardworking employees who have so tirelessly contributed to the success of the business over the years.
Since 1987, Katrina and her crew have sweetened Bay Area celebrations to the tune of thousands of wedding cakes, from simple and grand; tens of thousands of birthday and party cakes of every conceivable size and shape; and literally millions of deliciously addictive cookies, not to mention her wonderful holiday products.
Katrina knows that there will be pangs of withdrawal as the ready supply of these items disappears; she will miss them, too. She might even have to start baking at home!
There's no easy way to say goodbye, but Katrina and crew would love to see you before the doors close. Stop by and help us bid farewell to a one of a kind Bay Area institution.
Everyday Cakes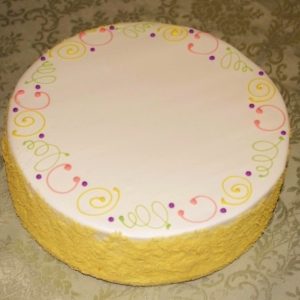 Click here for our Everyday Cake Menu. These cakes are normally available on very short notice, so ...