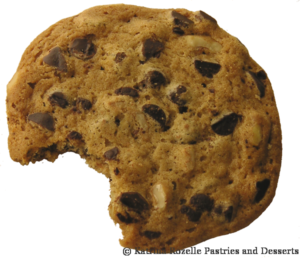 Download the full PDF version of Cookies.
Baked fresh every day, our wonderful cookies are a beacon to a many customers who make regular pilgrimages to indulge in a few bites of bliss. Our old-fashioned cookies are available in the standard size daily, but most can be ordered ahead in smaller sizes as well. We also sell rolls of our unbaked cookie dough, which can be stored in the freezer and baked as desired, for warm and gooey treats anytime you have an irresistible craving.
Chocolate Chip
This mouth-watering treat is loaded with walnuts as well as chocolate chips…just like homemade! Awarded Best Chocolate Chip Cookie: "Exceptionally tender and not too sweet, this one's for the sophisticated palate." San Francisco Focus.
Chocolust
We call it the unadulterated chocolate cookie because aside from the walnut chunks, it's practically pure chocolate. A must for chocoholics.
Oatmeal Raisin
An unpretentious and enduring American classic laden with walnuts and raisins that holds its own among gourmet trends.
Almond Praline
A rich and buttery shortbread cookie packed with pecans and almond praline. "…May be the world's best." San Francisco Focus
Peanut Butter
A moist peanut-buttery morsel bursting with toasted peanuts.
Coconut Macadamia Nut
The rich flavor of the toasted macadamia nuts is unmistakable in this wonderfully buttery new classic. It was Al Topp's favorite cookie!
Ginger
Soft, chewy and richly spiced.
Shortbead
Butter, sugar, flour… Simple perfection.
Additional cookie flavors are offered in November and December. Please see our Holiday Products for details.